Our Team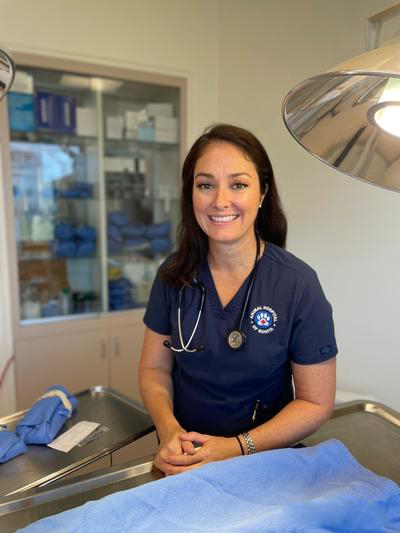 Veterinarian
Dr. Linda Kitchen, DVM
Dr. Kitchen graduated from Ross University with her clinical year at Louisiana State University, where she took extended classes in Ultrasound and exotic medicine. She externed at the Georgia Sea Turtle Center on Jekyll Island, and St. Catherine's Island Foundation. After working for wonderful veterinarians in Daytona Beach learning orthopedic medicine, she joins us in Bonita Beach with her husband, talented local chiropractor Dr. Bradley Frick, 2 orange cats and 2 aquatic turtles. She enjoys travel, cooking, fishing around 10,000 Islands and has been training to run a marathon for many, many years.

Vet Tech and Office Manager
Samantha Crowley
Originally from North Wales, UK, I moved to SW FL in 1992. Then in 2001 I moved to Bonita Springs with my mother and twin brother and sister, and I haven't left yet! I attended Estero High school, then SWFL college where I received my degree in surgical technology. I live in Ft Myers with 4 dogs and 2 cats-- Levi, a Boston terrier; North, a Black Lab/greyhound mix; Hunter, a Golden retriever; Benji a snipoo; and Boggins and Rupp, two domestic shorthair cats. I have worked in vet clinics for over 10 years. For hobbies I like to bake custom cakes and play with my dogs.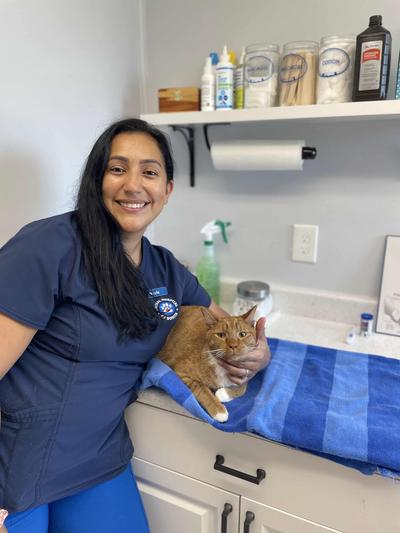 Vet Tech
Nicole Kroeger
I'm originally from Palisades Park, New Jersey, but my nationality is Colombian. I moved to Florida in 2002 and have been living in Bonita Springs since 2006. I've been working at Animal Hospital of Bonita since 2006 and I absolutely love it!! I have a daughter Leyla and I'm married. I also have 2 wonderful orange tabby cats-- Hercules and Kaddy and our newest member is Herbie the hedgehog. I love to do arts and crafts, and go on Pinterest to gather ideas. I love camping and off roading (trail riding) in our FJ cruiser. I love the beach.

Vet Assistant
Amanda Weeks
I joined Animal Hospital of Bonita in 2005 as a vet assistant and have worked in all areas of the clinic. I especially love working in the boarding kennel and bathing and grooming animals. I am originally from Bournemouth, England, which is south of London. I am married with two wonderful daughters, Megan 18 and Chloe 14. We have one cat named Odie and 3 small dogs: Marley, a toy poodle, Mickey a chalky, and Beckham a shokie. I enjoy spending time with my family, 4 wheeling, fishing and horse riding.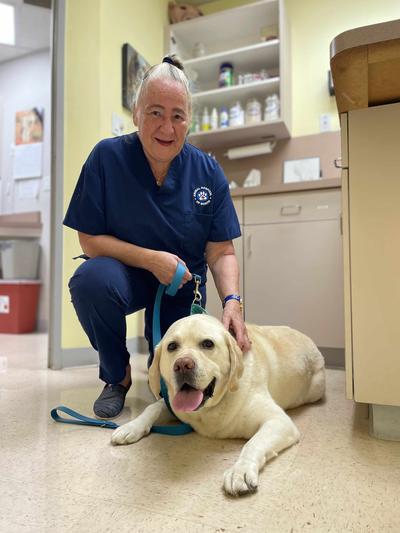 Vet Tech
Sally Johnston
I joined our staff in February 2016 after my husband, 2 cats (Monkey and Inky) and I moved to Florida in April 2015. I retired from an animal hospital in Ohio after 41 years in the field, and am a registered veterinary technician. After moving to Florida, my family got a Labrador puppy named Royal. I wanted to continue working part time because veterinary medicine is part of my life and passion.

Vet Tech
Tabatha Davie
Originally from Mansfield, Ohio I am a 2007 graduate of The Vet Tech Institute at Bradford in Columbus, Ohio. In the beginning of 2016 I decided it was time for a change so I loaded up my car and headed toward sunshine and palm trees. Don't let my home state fool you I am a Wolverine fan all the way! GO BLUE! My traveling partner and fur child is Rosa my 1 year old cat. She has become an unexpected love of my life as I am sure her feelings are mutual. I have had an amazing start to my career and feel very lucky and excited to begin a new chapter and opportunity here.
Doctor of Chiropractic
Dr. Bradley Frick, DC
Dr. Frick is a Florida-licensed chiropractor for humans who is also trained in animal adjustments. He has helped dogs and cats reduce the amount of NSAIDs and pain medication through spinal adjustments and gentle manipulation. He is available by appointment only.